From the balcony window of my house in Sicily, I can see hills that resemble a camel's back, dotted with a cornucopia of New and Old World fruits and grayish-green olive trees in what seem like never-ending rows. Nestled in the pasture are winding country roads lined with palm trees and prickly pear bushes, which connect clusters of limestone buildings that form villages. Beyond the landscape, the dark blue Mediterranean Sea melds into the clouds, making it almost impossible to locate the horizon, while at dusk, the sun reflects against the body of water, causing the sea to appear like a lake of liquid sliver. After sunset, when the countryside is dark, village lights illuminate the hills, and stars form webs in the sky. The sinuosity of both the hills and the waves remain forever etched in my mind. Looming above my home is an oversized mountain peak, with a restored winding staircase from the remains of an eleventh-century Arabic fortress. Town residents and tourists alike climb up the steps to take in the panorama, comprised of twenty-three villages, deep valleys and structures built by the Normans. In every corner of Italy, magical places like this exist, where nature and history merge. My adoration for Italy was first cultivated during childhood summers spent in my grandmother's native town, Sant'Anna. Everyone knew me and wanted to be my friend. I relished the attention, but more so the warmth of the Italian culture. Our first trip was in 1980, a few months before my third birthday. Both my mother and I desired to return, year after year, because we mutually felt the island pulling us in. Like quicksand, it absorbed us into its territory. Yet beyond the enchanting landscape and the bonds forged with townspeople and relatives, my summers in Italy ignited my love of gastronomy, and are the driving force behind my never-ending passion for the art of cooking. The majority of my social activities in Sant'Anna were intertwined with preparing, eating and preserving food. Every August, for example, for the festival of the Assumption of Mother Mary, we setup tents on the local beach and built bonfires, on which we grilled garlic-marinated lamb chops, fennel-ridden sausage and chicken segments. Year after year, when summers came to an end, I returned home with new dishes to experiment with. As sous-chef in my mother and grandmother's kitchens, I attempted to recreate authentic Sicilian flavors, filling our home with the bold aromas of ingredients such as sardines, wild fennel and eggplants. Such moments ignited at a young age my lifelong desire to master the intricate techniques of Italian cooking and to share the taste of Sicilian food with others. Today, as proprietress of two restaurants in New York City, I notice that many patrons share a skewed view of the true nature of Italian cuisine, which in popular culture is repeatedly portrayed by overflowing dishes of pasta smothered in meat sauce. At Bar Eolo: Sicilian Kitchen & Wines, customers sometimes express surprise when not finding so-called "red sauce" offerings on my menu. Instead, I offer seasonal menus and cook with ingredients such as sea urchin, bitter cocoa, couscous, ash-tree sap (known in Italian as manna), pistachios from Mount Etna and bottarga, all genuine ingredients deeply rooted in Sicily's culinary history. Just as Sicilian cities are a mosaic of architectural remains from the past, combining Greek temples with Medieval Jewish bathhouses, Norman palaces and ornate Late Baroque-era cathedrals, Sicilian cuisine is a patchwork of different cultures and time periods. Sicily is a culinary crossroads of the Mediterranean region, possessing a multifaceted food culture that reflects the influences of the many ethnic groups that once called it home. My inspiration to properly represent the richness of the cuisine and history of my grandmother's birthplace is unfaltering. By recreating the island's cuisine here in Manhattan, I personally re-experience and simultaneously share a taste of Sicily with others, albeit from four thousand miles away. Through food, I hold the key to keeping my coveted heritage alive in my being. When not in the kitchen, I work on writing projects and teach classes to further promote Italian food and wine. Over the last five years, I have interviewed countless farmers, fishermen, home cooks, Michelin-starred chefs and winemakers from all around Sicily, gathering recipes and stories for my cookbook, a true labor of love. I also surround myself in New York City with others who share the same passion for the Mediterranean countries, and join forces with those who express their passion for Italy through other mediums than food. With the renowned Italian photographer, Lou Manna, I am currently developing cooking videos that highlight the history behind the nuances of Italian cuisine. Lou and I also collaborate instinctively on food photography for my restaurant websites and he is able to convey the flavor of my dishes with images that capture attention and convey appetite appeal. Together, with Lou's camera and my kitchen tools, we synergistically translate our mutual love of Italy into motivating images that represent the peninsula in a way that popular culture has not seen. When in Italy, I feel whole. Anywhere else, I feel as if a part of me is missing. Even today, as I travel to Sicily to visit family and research for my forthcoming cookbook, I feel a sense of sadness as the plane leaves Sicily. Gathering recipes and food stories for my cookbook has allowed me to fall in love with the island all over again, exploring its many facets and tasting new dishes and traditional foods each step of the way.
chef Melissa Muller Daka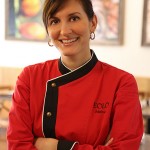 Lou Manna is an award-winning photographer whose work          has appeared in national advertising campaigns, major magazines, and more than 40 books. After shooting for the       New York Times for 15 years, Lou established a Fifth Avenue studio where he produces work for a wide range of corporate, advertising        and public relations clients. Lou brings a natural sense of style, color    and composition to all his work. He  is especially well-known for his ability to make food sparkle through his meticulous lighting techniques, prompting world-renown chef Eric Ripert to comment that his images are "exquisite and mouthwatering". Lou has revealed many secrets in his book, Digital Food Photography, the first book on food photography devoted exclusively to digital technology. Here is a link to Amazon: http://tinyurl.com/5r75ype. Lou also teaches private and group food photography workshops in his studio and across the world.
ph. Lou Manna