The art of perfection. Preserved for your table
European preserved tomatoes landed in New York and Chicago!
FROM OUR TOMATO FIELDS TO YOUR PLATE
July 1, 2019 – New York – NY – RED GOLD FROM EUROPE! ANICAV – the Italian Association of Canned Tomatoes Producers – representing the world's finest European preserved (canned) tomatoes, grown under the Mediterranean sun and produced in Italy by time-honored methods, hosted a series of tomato-sauced events in New York City and Chicago, supported by the European Union.
Not a specific brand—RED GOLD FROM EUROPE is an EU (European Union) program to raise awareness and knowledge of the excellence of EU canned tomatoes. RED for the rich, ripe color of the tomato, GOLD for their high quality, precious nature, the gold standard of tomatoes. When you taste European tomatoes you are tasting the very essence of what a tomato should (and could) be.
RED GOLD FROM EUROPE! was at the Summer Fancy Food Show 2019, New York City with daily cooking demonstrations by renowned chefs and samplings of the tomato-y delicacies they whipped up. The program also sponsored Tomato Land Restaurant Weeks—at selected restaurants in NYC and Chicago which offered a tasting menu of special dishes and recipes, showcasing our delicious tomatoes.
Here are more details of what went on.
2019 Summer Fancy Food Show, June 23-24-25, Javits Convention Center, NYC
The Fancy Food Show, produced by the Specialty Food Association, is a global marketplace, held twice a year: Winter in San Francisco, Summer in NYC, gathering the most exciting and best food products from all over the world, available in the USA. We were so excited to be there, promoting the unique taste and versatility of our tomatoes to retail buyers, restaurant owners, chefs, and journalists!
Over 2.000 visitors visited us at Booth #2628 and had the chance to taste each day a variety of tomato-y dishes that our chef Massimiliano Convertini and his team from the highly esteemed Federation of Italian Chefs in New York cooked up for them.
On Sunday, June 23 Red Gold from Europe also awarded the sustainability prize at the Italian Awards while on Monday, June 24 Red Gold from Europe was proud to be a Gold Sponsor of the Front Burner Foodservice Pitch Competition: Four food-luminary judges, three finalists and one lucky winner!
Tomato Land Restaurant Weeks 2019, NYC and Chicago
NEW YORK CITY, June 21-27
Over 4.000 customers enjoyed Sicilian Couscous with tomato brodetto, Tuscan Pappa Pomodoro, super savory meatballs in a rich tomato ragu and much more such as delectable Pasta alla Norma and tempting Arancini served at Il Gattopardo, Mozzarella e Vino, Amarone and The Leopard at Des Artistes. They all made special appearances.
CHICAGO, June 25-July 1
Fabulous pizza, eggplant rolls filled with ricotta and sauced with tomato, a zippy mussel and tomato stew, or a delicious classic with a twist – Spaghetti with rustic tomato sauce cooked in a silver saucepan; these are among the dishes our Chicago restaurants – Spacca Napoli Pizzeria, Casati's Pizza Vino, Di Maggio Restaurant & Cafè, Munno Pizzeria & Bistro – simmered up for over 5.000 customers!
Our fields will continue to grow, our tomatoes to ripen, and we will be back in 2020 for the Winter Fancy Food in San Francisco, the Pizza Expo in Las Vegas, the NRA (National Restaurant Show) in Chicago, the Summer Fancy Food Show in NYC and with more Restaurant Weeks in Miami and Las Vegas.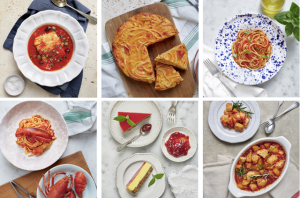 For a Press Kit, as well as a selection of our delicious, tomato-y Recipes, visit our website:
Enjoy– it's from Europe!
#redgoldfromeurope